News
Design Magazine AXIS Vol.225 on Sale September 1 !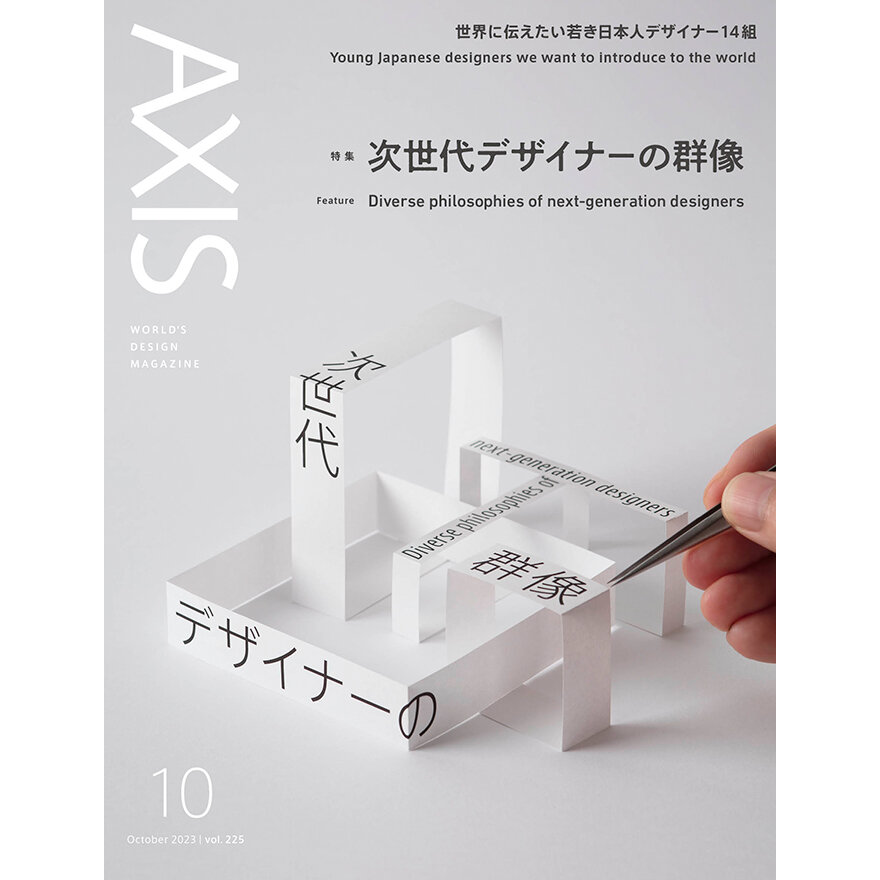 Feature
Diverse philosophies of next-generation designers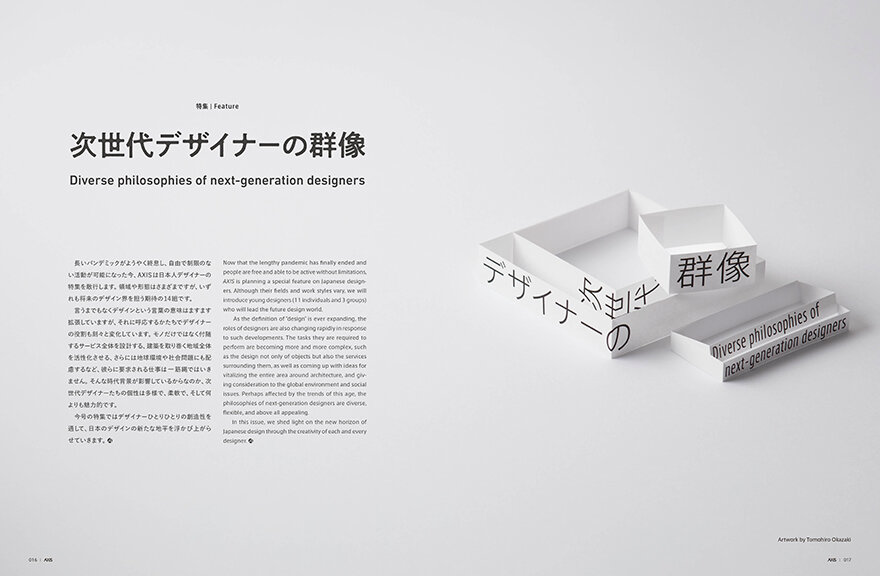 Now that the lengthy pandemic has finally ended and people are free and able to be active without limitations, AXIS is planning a special feature on Japanese designers. Although their fields and work styles vary, we will introduce young designers (11 individuals and 3 groups) who will lead the future design world.
As the definition of "design" is ever expanding, the roles of designers are also changing rapidly in response to such developments. The tasks they are required to perform are becoming more and more complex, such as the design not only of objects but also the services surrounding them, as well as coming up with ideas for vitalizing the entire area around architecture, and giving consideration to the global environment and social issues. Perhaps affected by the trends of this age, the philosophies of next-generation designers are diverse, flexible, and above all appealing.
In this issue, we shed light on the new horizon of Japanese design through the creativity of each and every designer.
Tomohiro Okazaki
Seeing the world as is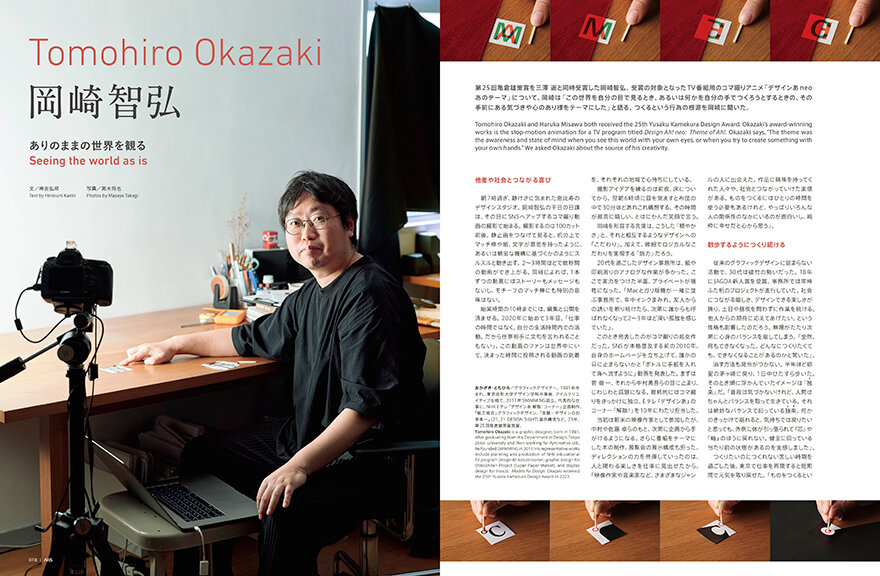 Tomohiro Okazaki and Haruka Misawa both received the 25th Yusaku Kamekura Design Award. Okazaki's award-winning works is the stop-motion animation for a TV program titled Design Ah! neo: Theme of Ah!. Okazaki says, "The theme was the awareness and state of mind when you see this world with your own eyes, or when you try to create something with your own hands." We asked Okazaki about the source of his creativity.
Yuma Kano
Ideas and enthusiasm reverse a sense of value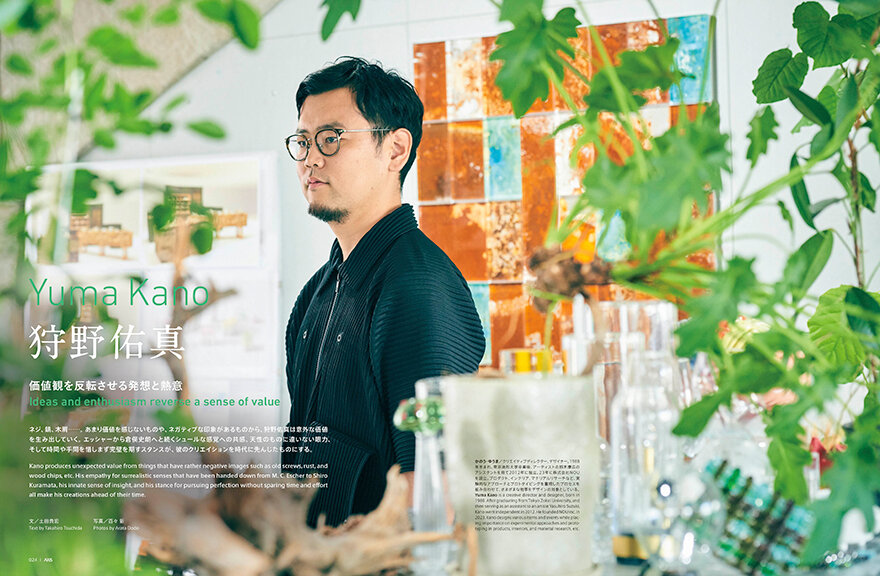 Kano produces unexpected value from things that have rather negative images such as old screws, rust, and wood chips, etc. His empathy for surrealistic senses that have been handed down from M. C. Escher to Shiro Kuramata, his innate sense of insight, and his stance for pursuing perfection without sparing time and effort all make his creations ahead of their time.
The transitions of Japanese designers since 2000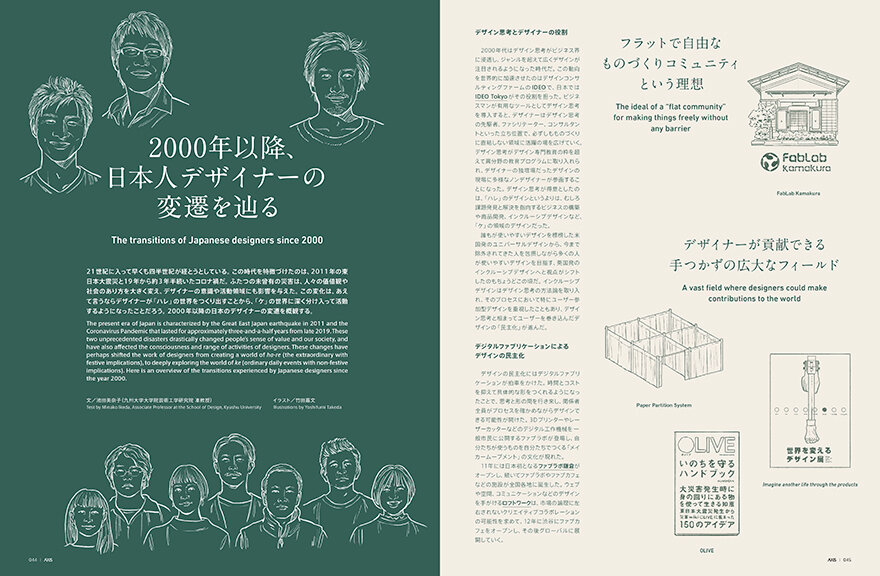 The present era of Japan is characterized by the Great East Japan earthquake in 2011 and the Coronavirus Pandemic that lasted for approximately three-and-a-half years from late 2019. These two unprecedented disasters drastically changed people's sense of value and our society, and have also affected the consciousness and range of activities of designers. These changes have perhaps shifted the work of designers from creating a world of ha-re (the extraordinary with festive implications), to deeply exploring the world of ke (ordinary daily events with non-festive implications). Here is an overview of the transitions experienced by Japanese designers since the year 2000.
[ Special Talk ] Haruka Misawa (Designer) × Maki Onishi (Architect)
Stimulating our senses and encompassing charm like a living creature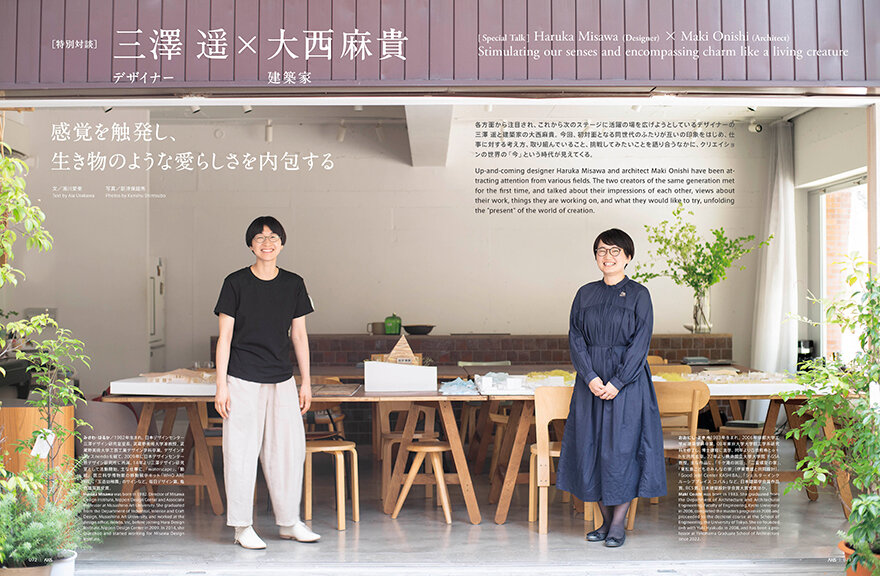 Up-and-coming designer Haruka Misawa and architect Maki Onishi have been attracting attention from various fields. The two creators of the same generation met for the first time, and talked about their impressions of each other, views about their work, things they are working on, and what they would like to try, unfolding the "present" of the world of creation.
INSIGHT
The ambition of Zaha Hadid Architects Creating a new city in the Metaverse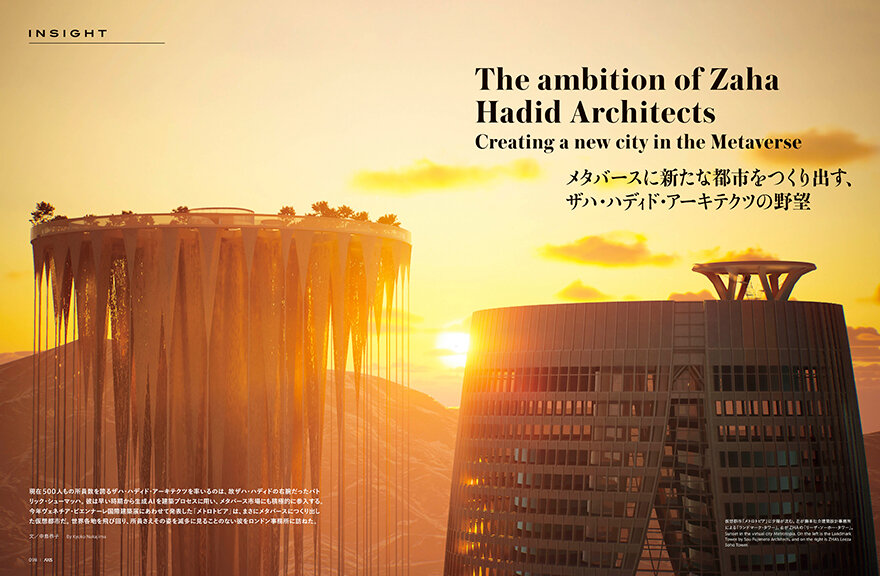 The person who leads Zaha Hadid Architects (ZHA), which has as many as 500 staff members today, is Patrik Schumacher, the former right-hand man of the late Zaha Hadid. Schumacher has been using generative AI in architectural processes since its early stages and has also actively been involved in the Metaverse. METROTOPIA, which he unveiled at the same time as the Venice Architecture Biennale this year, is a virtual city created in the Metaverse. Schumacher has a busy schedule flying around the world. Nevertheless, we managed to visit him at his office in London.
INSIGHT
Art changes people's habits
THOMAS SARACENO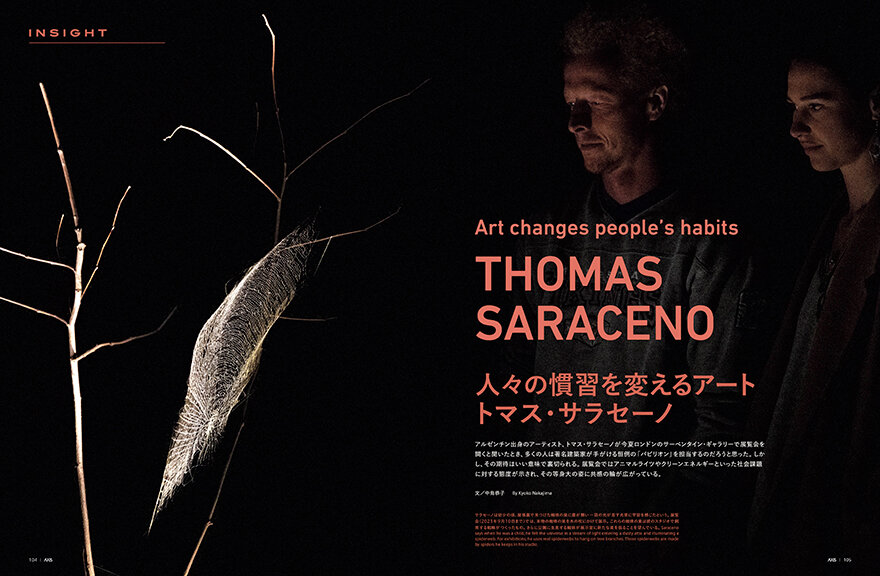 When people heard that Argentinian artist Tomás Saraceno was going to exhibit at Serpentine Galleries this summer in London, many thought he would design the summer Pavilion. That expectation was exceeded when it was announced that he would exhibit in the main Serpentine South gallery. His stance on such social issues as animal rights, the climate crisis and clean energy were shown at the exhibition, and Saraceno is gaining much empathy for his honest stance.
Contact
Design Magazine AXIS