News
【AXIS collaborative exhibition】nuno nuno: publication show for Nuno: Visionary Japanese Textiles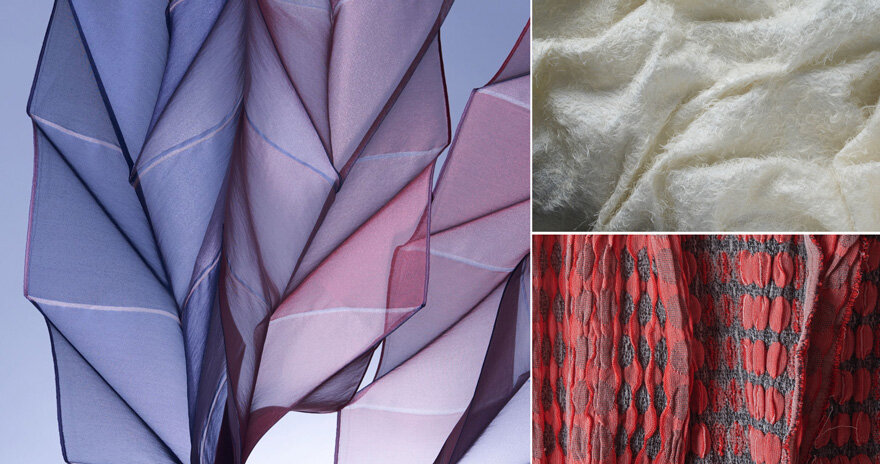 Event period

12.1 Wed

12.12 Sun
NUNO is a textile design studio whose innovative textile making is attracting attention worldwide. The first large-scale collection of their work, NUNO - Visionary Japanese Textiles (Thames & Hudson), introducing their textile making, will be published this month. To commemorate this, the nuno nuno installation exhibition will be held at AXIS Gallery, in collaboration with photographer Masayuki Hayashi, who took all the photos for the book, and contemporary design studio we+, which is working on expanding the realm of design through its unique approach.
Based on the book, the exhibition offers unique interpretations of their works. Please enjoy the new world of NUNO.We are looking forward to seeing you at the venue.
Event period
Wednesday, December 1 to Sunday, December 12
*No holidays during the exhibition
Time

11:00 ー 19:00

Venue
AXIS Gallery
Fee
Free
Organizers
Reiko Sudo
Photography
Masayuki Hayashi
Exhibition design
we+

Cooperation

AXIS Gallery / Hakuten / Shoei inc.
*The work collection 「NUNO - Visionary Japanese Textiles」 will be available for purchase at design book shop BIBLIOPHILE (LIVING MOTIF 2F) during the exhibition.
NUNO's world unraveled through onomatopoeia
Discovering NUNO's textiles through eight onomatopoeia that appear in the collected works book as clues, including "FUWA FUWA," "KIRA KIRA," and "ZAWA ZAWA." The exhibition focuses on physical sensations and emotions evoked by various materials and expression techniques.
Overwhelming resolution of photos by Masayuki Hayashi
Photographer Masayuki Hayashi spent three years to shoot approximately 3,200 photos of 426 types of NUNO textiles for this book. His photos unveiled the lifelike world of textiles woven by thread. A major highlight of the exhibition is this overwhelming resolution in the textile photos, which astonished even the members of NUNO.
First collaboration of Reiko Sudo with we+
The exhibition will be designed by Toshiya Hayashi and Hokuto Ando of we+, a design studio that takes a unique approach based on the concept of "Contemporary design to develop ideas and aesthetics." The collaboration with the artists, who are attracting attention in the global design field, adds a new look to NUNO's textiles.
Related events
Online Event   AXIS Forum "Return to Origin Vol. 6" inviting Sudo Reiko (NUNO)
The COVID-19 pandemic has changed our world dramatically. Accepting changes and building a new future may require a return to origin, where we may examine our very bedrock. With this in mind, AXIS Forum is inviting speakers that are active in various fields.
In this AXIS Forum, we will hear about textiles in demand today, and future activities that she desires to pursue, as well as the grass roots and the driving force behind her one-of-a-kind textile creation. The Forum will be live streamed from the venue of the nuno nuno exhibition, and introduce the highlights of the exhibit.
| | |
| --- | --- |
| Date | Tuesday, November 30 |
| Time | 19:00 ー 20:00 |
| Venue | Online live streaming from the nuno nuno exhibition venue(AXIS Gallery) |
| Fee | Free |
| Application | Please register via Peatix. |
| Organizers | AXIS Inc. |
Insta Live
InstaLive inviting Reiko Sudo, Masayuki Hayashi, and Toshiya Hayashi and Hokuto Ando of we+ will be held on Saturday, December 4, from 8:00 pm. Please see the NUNO website for the latest information.
Related Information
Collected works book, 「NUNO - Visionary Japanese Textiles」, will be released in mid-November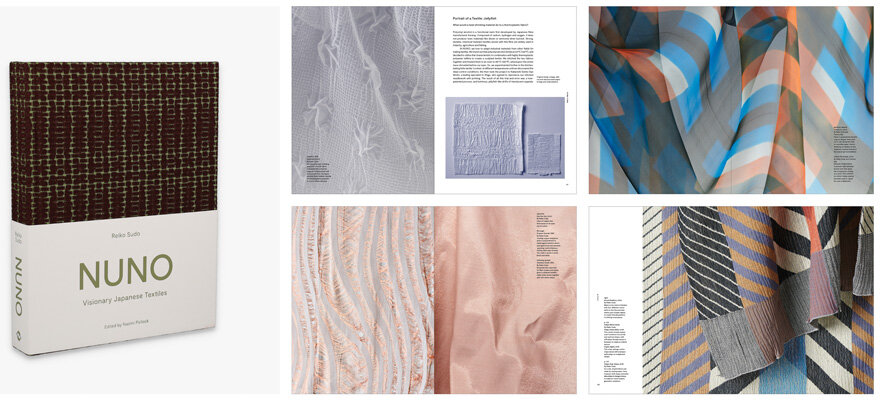 The book introduces 300 textiles created mainly by director Reiko Sudo, as well as founder Junichi Arai and the members of NUNO, based on themes deriving from onomatopoeia. This book with superior visual quality includes specially commissioned photos by photographer Masayuki Hayashi and its cover is made of a NUNO textile. Furthermore, it also contains essays by a wide range of contributors, from writer Haruki Murakami, architect Toyo Ito, musician Arto Lindsay, to V&A's curator Anna Jackson.
Title: NUNO - Visionary Japanese Textiles
Publisher: Thames and Hudson
Type: Hardcover
Language: English
Number of pages: 380 pages
Other: 610 illustrations